SUPPORT
With Mayekawa, your business never stops
Our service technicians around the world will work closely with you to support the maintenance and operation of your equipment and facilities so that you can continue high-quality storage and production activities with peace of mind at all times. We will work together to address the challenges you face and help you to achieve sustainable growth for your business.
Maintenance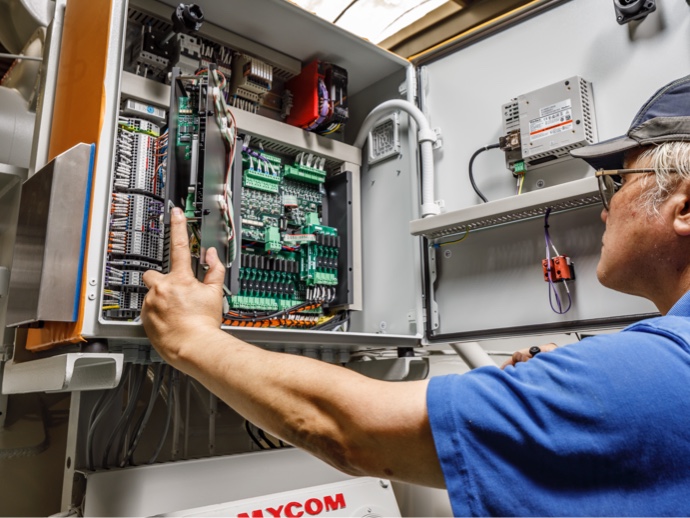 Accurate maintenance and quick response
We will do our utmost to ensure your production line keeps running.
To ensure the stable operation of your plant every day, we check the operating status of equipment and facilities from various perspectives such as vibration, thermographic analysis, and oil analysis, and formulate a plan for repairs and replacing parts tailored to your needs.
Scheduled maintenance allows you to keep down costs by avoiding unexpected failures, and enables your facilities to operate in a manner that is long-lasting, efficient, and functional.
In the event an unexpected failure or malfunction occurs, our service technicians on standby around the world can and will respond promptly to minimize downtime and help ensure a speedy return to production, we will investigate the root cause of any problems, and discuss improvements with you.
An overhaul to meet your needs
Whether you want to overhaul equipment on-site to ensure your production line is not interrupted, or make focused repairs at a Mayekawa workshop, our experienced staff are ready to answer the call.
Aging equipment can even be upgraded with our latest designs through retrofit service work.
Predictive maintenance
Monitoring the operational trends and performance of facilities and equipment not only allows for more effectively scheduled maintenance, but also leads to the early detection of abnormal data and the prevention of any trouble before it occurs. We can develop and provide monitoring programs tailored to your needs.
Commissioning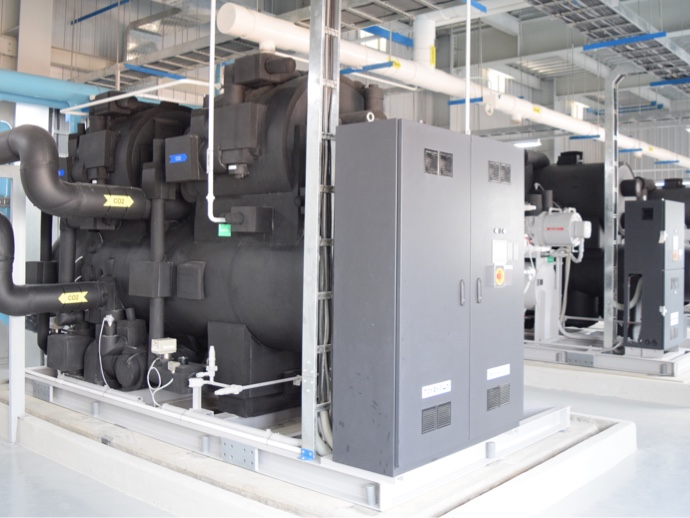 In order to operate advanced machinery and equipment safely and efficiently, sophisticated adjustments for each piece of equipment are critical.
Highly skilled and experienced commissioning technicians are ready to help you make optimal adjustments to your facilities so that any new facilities will run smoothly and operate at peak performance.
Training & Lecture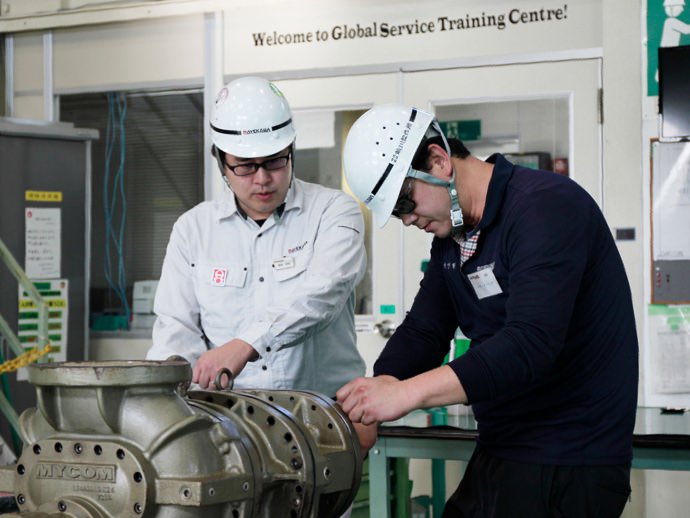 Our experienced technicians can offer training at participating locations.
We have programs available to suit your needs, such as lectures to learn basic theories like freezing cycles and coolant characteristics, how a MYCOM compressor works and its components, as well as practical lectures for trial operation and overhauls.
Please inquire about available training at your nearest Mayekawa branch.
Technical support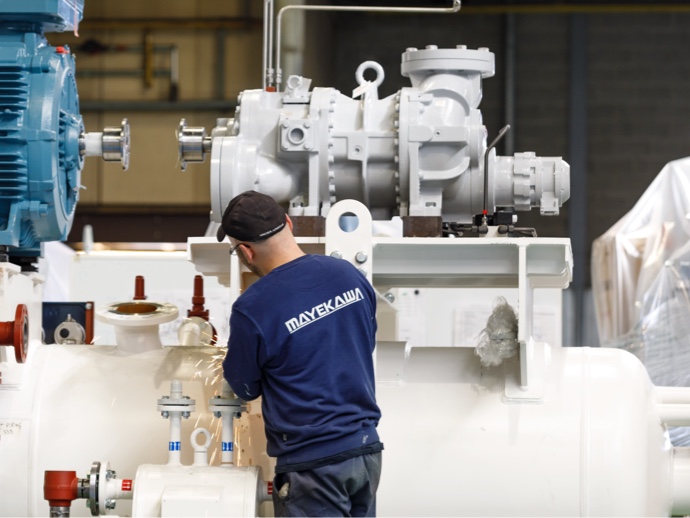 Your facilities and plants are required to keep up and comply with new safety, environmental, and quality standards as they are updated around the world.
We support equipment and plant renewal and optimization efforts with an emphasis on important charactiersitics like performance, efficiency, and safety by using our in-depth knowledge of refrigeration systems, compressors, and electrical systems to ensure that your facilities and plants always operate at their best. We share any issues with you and make proposals for improvements so that existing facilities and plants can be upgraded to meet your needs with minimal investment and a short construction period.
What's more, based on the information obtained from daily maintenance, predictive maintenance, and our monitoring systems, we enable facilities and plants to deliver their full potential by examining efficient operation methods with you as well as assisting in initiatives to reduce energy consumption and improve production efficiency.
Spare parts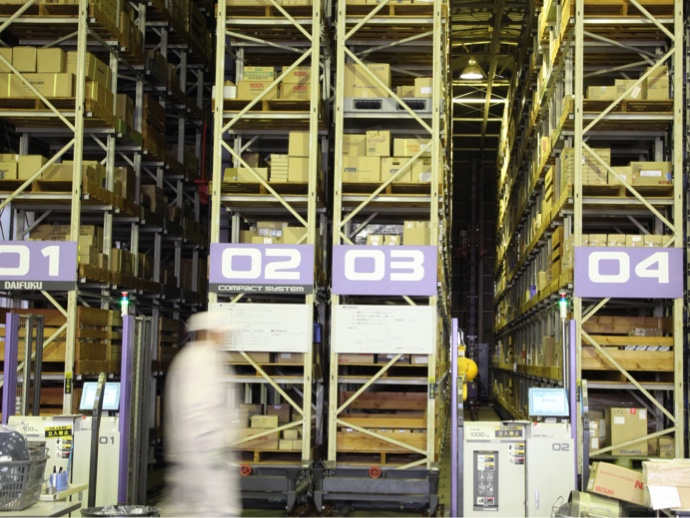 It is essential to use genuine spare parts in order for your facilities and plants to continue to operate stably and with an appropriate service life.
Through our global service network, we have a system in place to deliver parts quickly.
Contact your nearest Mayekawa branch should you have any questions.
*Refer to the Compressor Parts page for details.
We're ready to help, wherever you are